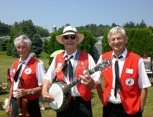 The Central Fraser Valley Fiddlers, have been promoting traditional fiddle music since 1973. Although we hold our monthly meetings and weekly practices in Abbotsford, members come from as far as Hope and Vancouver, and range widely in age. Located in the Central Fraser Valley, which consists of Abbotsford, Mission, Chilliwack to Hope, this area of the Fraser Valley is enriched with agriculture, arts and attractions. The Fraser Valley follows the path of the mighty Fraser River through this beautiful strip of land that extends northeast from Langley to Lillooet.
Our aim is to maintain and promote traditional Canadian fiddle and folk music, through the encouragement of young and old alike, to develop their musical talents, to develop warm friendships, and most of all, to have fun and laughter, and enjoy the tunes we play.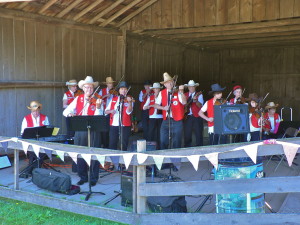 We play for public and private functions and we also play at seniors' homes all over the Lower Mainland, delighting the residents with old tunes to sing and hum to. Though primarily a Fiddle Club, we could not succeed without our excellent back-up musicians on piano, guitar, mandolin, drums, banjo and bass. If you would like more information on how to book us for a performance, please contact Frieda  Click Here
The Central Fraser Valley Fiddlers is one of the oldest branches of the B.C. Old Time Fiddlers Association and remains one of the most active. We welcome new members any time, whether you learn by note or by ear. Our Branch currently has about 30 members and you don't have to play to join. You can just volunteer to help organize our events too!