Our regular practices are held every Wednesday evening from 6:45 – 8:45 pm (except for the first Wednesday of the month) from Sept. to June at the Hallmark Assisted Living, 3055 Princess Street in Abbotsford. Our players are at all levels of competence so no need to feel shy about joining us.
During the months of July and August, we have informal jam sessions. Please check with our booking director Frieda deHaan or do check with one of the Executive Members . Hope we catch up with you so we can all enjoy music.
Special for youth –
The CFVF kid's club will be starting on the first Wed.  and meet at unit #49 – 34250 Hazelwood Ave, Abbotsford.  Every third Wednesday of each month, meet at Hallmark on the Park, 3055 Princess St., Abbotsford, except on school holidays like Spring break. The kids are expected to have played for two years and will be taught the tunes Central Fraser Valley Fiddlers use at Playouts.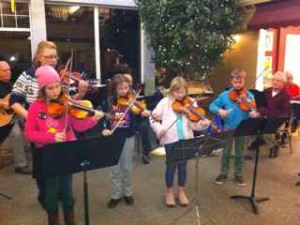 The cost is $10.00 per month ( to cover material cost) as well as a free application for membership to Central Fraser Valley Fiddlers. Please contact Jo Blaak directly @ click here for more information.
Thanks Jo for your hard work to help preserve traditional Fiddle music.
If you are only interested in listening to fiddle music, please feel free to join us too.
We have a general business meeting on the first Wednesday of each month from 7:00 PM to 9:00 PM at Kariton House (Abbotsford Art Coucil office ) , 2387 Ware St., Abbotsford, BC . We do not normally have meetings during the months of July, August, or December.
The club normally organizes a pot luck Christmas dinner and a music jam for its members. Information on this event is not normally posted on the website so check with the Secretary on the Contacts list.